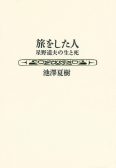 Tabi o shita hito
Hoshino Michio no sei to shi
One man's Journey—
The Life and Death of Hoshino Michio by Ikezawa Natsuki.
Photographer Hoshino Michio was attacked and killed by a grizzly bear on Kamchatka Peninsula on August 1996. This book brings together various writings and transcripts of speeches and dialogues by this author on Hoshino and his life.
At twenty-two, Hoshino made up his mind to live in Alaska, and began studying photography as the means of achieving that goal. By the age of twenty-six, he was in Alaska, where he spent the next eighteen years exploring remote wilderness areas and taking superb photographs of the scenery and wildlife he found there. To the author, Hoshino was a rare person in that he demonstrated what true happiness was by the example of his own life In the "Somewhat Too-personal Commentary" he wrote for Hoshino's book Tabi o suru ki [Traveling Trees], the author says, "Hoshino lived a better life and enjoyed more happiness than anyone I know of," and suggests that "we are not qualified to mourn his death."
Switch Publishing, 2000. 193 x 131 mm. 390 pp. ¥2,400. ISBN 4-916017-91-9.